Patient introduction
A 53-year-old female with multiple sclerosis had a slow-healing ulcer on her left leg since August 2020. The patient was first seen by her general practitioner and a dermatologist. She had multiple treatments and used many antimicrobial agents. Treatment at the wound clinic started the 25th of January 2021, the wound having been there previously for 5 months. The patient had eczema around the wound, was scratching the leg, and a local inflammatory reaction delayed healing. The wound size increased between the 15th of February and the 8th of March. On the 8th of March, treatment with PLASOMA began.
Results and frequency PLASOMA cold plasma system
• 3 Weeks of PLASOMA cold plasma treatment, once a week.
• Wound closed after 3 weeks / 3 treatments.
• Reduced bacterial load and increase in new epithelial tissue.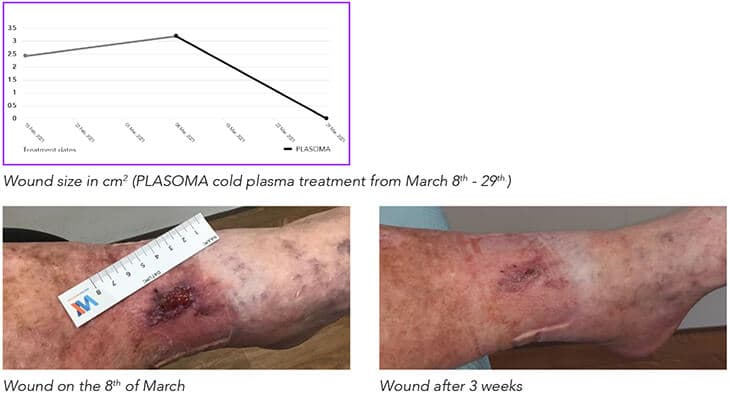 To request the full case study -Case8_VenousLegUlcer2021EN- please fill in the form below:
I give Plasmacure permission to send me the case study and other communication. I can unsubscribe at any moment using the link at the bottom of the e-mail.