Patient introduction
A 66-year-old male with type-2 diabetes scraped his ankle in November 2020. By January 2021, the wound showed signs of increased colonisation and biofilm delaying the wound healing process. In the past, uncontrolled blood sugar caused neuropathy. Nowadays, his blood sugar is well controlled, and he takes care to assess his feet and legs regularly.
Results and frequency PLASOMA cold plasma treatment
• 3 Weeks of PLASOMA cold plasma treatment, twice a week.
• > 80% Wound size reduction in 3 weeks, wound closure in 4 weeks.
• Reduced bacterial load and new granulation tissue. Wound closure rate increased.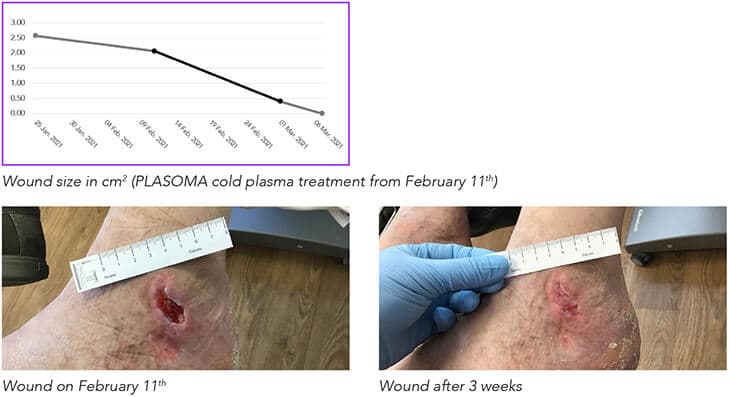 To request the full case study -Case5_DiabeticFoot2021EN- please fill in the form below:
I give Plasmacure permission to send me the case study and other communication. I can unsubscribe at any moment using the link at the bottom of the e-mail.